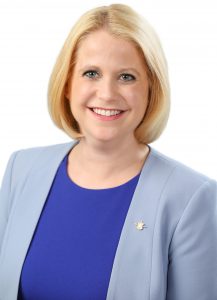 Lisa Beare was first elected as the MLA for Maple Ridge-Pitt Meadows in May 2017, and re-elected in October 2020. She is the Minister of Citizens' Services, and the Deputy House Leader.
Lisa grew up in Maple Ridge and has been raising a young family in the community. She previously worked as a flight attendant. Lisa demonstrated her commitment to good governance early on, with a diploma in local government management from the University of Victoria.
Long a passionate advocate for social causes and a committed volunteer, Lisa got her start in politics in 2014 when she was elected as a member of the local school board. Her time on the school board and her own experiences as a mother led her to become an advocate for quality public education for all British Columbians.